Tiesha Lamb: Working Her Skin Magic!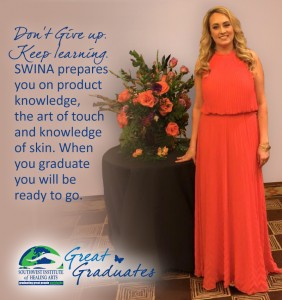 Tiesha Lamb is a licensed aesthetician and the owner of Skin Voodoo in Gilbert, AZ. She combined her education in nutrition and aesthetics with her love for helping others feel their best.
"It is a passion of mine to educate others on how to best care for themselves. I obtained my degree in nutrition from ASU years ago. Because of this, I knew that there is more to skin health than putting a good product on your face. I enrolled at SWINA knowing they had an extensive program that taught more than product knowledge and skin anatomy like other schools in Arizona. No other school sends you out the door as well-rounded as SWINA."
SWINA taught her:
The technical skills I needed to obtain employment
The art of relaxation, massage and healing therapies
Product knowledge
The ability to problem-solve and explore alternative solutions for skin concerns
In fact, one of the most valuable takeaways that Tiesha learned was "that there is not one solution to every problem. Sometimes you have to search, dig, and research all night to help your client, yet it can be done! These situations arise to make you a more educated and adept aesthetician and a more caring individual." It is obvious in Tiesha's online reviews that her clients have experienced this within her services and sessions.
Her passion for her program started initially with a desire to study laser use. "I began my journey at SWINA wanting to become a Laser Technician. My aesthetic degree was just a step to get there. The minute my program began I fell in love with aesthetics and knew that that is what I wanted to do! I determined I wanted to work for myself and developed a plan to get there. I still went ahead and completed the Laser Technician program and I am so glad I did."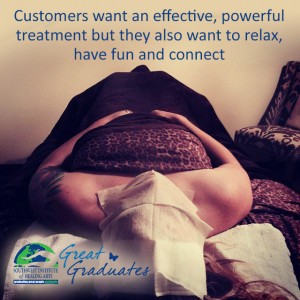 In fact, Tiesha recommends it to any aesthetician. "Your clients are going to ask you about laser treatments. You will be able to advise them on what treatments they might want to look into and what will be beneficial for their skin. When you have this knowledge you can make educated suggestions and it further enhances your credibility as an aesthetician. I am passionate about what I do because I love helping others. I love treating skin concerns to transform the way a person feels about their skin. I love educating clients on caring for their skin and what products they should be implementing in their wellness routines. Our skills enable us to share our knowledge with others and can literally change everything for that person."
Tiesha's opening of her own LLC, Skin Voodoo, has been a huge success and an ever-growing venture. "I provide facials, peels, dermaplane, microdermabrasion, oxygen facials, acne facials, brow waxing & design, face waxing, brow color, eyelash color, Lash Lifts and Lash Lift training and certification for estheticians."
Her clients can expect stellar service, immediate results and takeaway tips for self-care between sessions. "Clients can expect an initial consultation be it regarding brows, lashes, skin; everyone has concerns, ideas of what they want to achieve, things that make them hesitant about services, this is an important step that will help put your client at ease and help you establish your game plan. No matter what service they choose it will be a relaxing experience, clients come to us to unwind and de-stress. They will also get results!"
"In this business, everyone is a potential client! The skincare industry is always growing and evolving! Sometimes the people you don't expect to want services are the ones who become your regulars so don't ever count them out! I have clients in their 20's and 30's concerned about acne and ready to start preventing wrinkles, ladies in there 40's, 50's, and 60's who want to keep their skin glowing and beautiful, as well as, clients in there 70's and 80's who receive hydrating and relaxation treatments. Men are also a huge part of my clientele – men of all ages are becoming more concerned about taking care of their skin and looking the best they can. I also have teens that come in for brow design and acne issues. I love and appreciate having a variety of clients which is always teaching me better ways to care for their skin."
Tiesha has truly expanded and evolved quickly as a well-known and highly-regarded aesthetician. She truly values the continuous opportunities she receives to serve so many. "I have this incredible opportunity to meet new people and get to know them on a personal basis. I have the pleasure of waxing and designing the brows of Miss Arizona and Miss Arizona's Outstanding Teen. I loved discussing pageants with these girls! I also am lucky enough to work with brides getting ready for their big day, knowing they trust me to make sure their skin is picture-perfect!"
Many of Tiesha's clients also come to her for what she calls "mind and body healing." "Customers want an effective, powerful treatment but they also want to relax, have fun and connect. A tranquil and beautiful space is a must. Comfy sheets and scented candles can even make a microderm relaxing! A hand massage and a hydrating spray of oxygen combined with a peel, makes the service something to look forward to. Some clients want to come in and visit, some want to take the time to zone out or fall asleep. Whatever their desire, I honor such and deliver as they deem fit."
Tiesha credits SWINA for educating her in all that she has to offer her clients as a successful business owner. "Having the knowledge to help someone with a skin concern or problem is life-changing. Changing the appearance of the skin someone is insecure about makes my journey worth it to me. Every time a client tells me they feel like they can wear less makeup now, they didn't get any new breakouts this month, they actually feel beautiful when they wake up in the morning are little victories for me. Helping people is why I do this and it is as healing for me inside as it is healing for my clients' skin."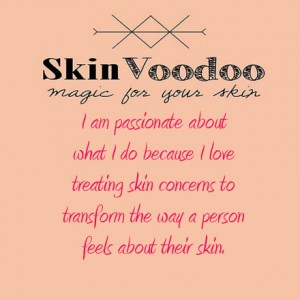 Her message to other aspiring SWINA students and recent grads is: "Run with it! Don't give up. Keep learning. SWINA prepares you on product knowledge, the art of touch and knowledge of skin. When you graduate you will be ready to go. You will have the information to start practicing no matter what path you choose and your education will never quit evolving. Right out of school, I got a part time job at a med spa, as well as, having a full-time position at a non-aesthetics job. I built up a handful of loyal clients from the spa and rented a space part-time from a massage therapist where I could start my own business. It just didn't feel right so after some time and building a few more clients I moved into the space I currently rent out of Simply Ravishing Salon in Gilbert, AZ. I changed my business name to something I felt was more edgy and would grab a little bit of attention. I continued to work a second job, and just knew my aesthetic business would become a success. Finally I took the leap, I built enough of a clientele to leave my second job and I have never looked back."
"I make my own hours, book my own clients, sell the products I believe in and use my knowledge to customize treatments that work. I love every day I walk into my space and feel grateful for every face I get to work on. Word of mouth has been my means of growing my clientele. If you put your heart and your energy into each and every client it will pay off.
I recently had the honor of receiving the position of being the Arizona Trainer for Elleebana Lash Lift so I get to work with aestheticians and train them on adding the Lash Lift to their own list of services. This has been an amazing change of pace for me and I am loving every minute of it! I also think it's important to keep your business diverse. Don't just offer a couple facials and a waxing menu. Offering multiple services gets clients in your doors. Sometimes a younger client in her 20's will come in because she wants her lashes to look fabulous and this gives me the opportunity to educate her about skin care. She would have never thought of a facial being so young but she now understands the importance of a treatment and is going to make it a priority!"
When asked if Tiesha plans on furthering her education in skincare, she says, "Yes!!! An aesthetician's work is never done! This ever-changing industry requires us to keep up on what's new and trending! Every training or education program you participate in will expand your skillset and knowledge in some way! I continuously seek out new information and register for any training course I can! Some examples of my continued education are my Laser Technician Certificate, certification in dermaplane from SWINA & Dermaplane Pro, Skin Medica Product Knowledge Certification, Skin Medica Peel Training Program, Skin Scrip Product Knowledge Certification, PCA Product Knowledge Certification, PCA Advanced Chemical Peel Specialist, Xtreme Lash Extension Course, Reiki level 1, 2 & 3 Certification, Elleebana Lash Lift Certification & Elleebana Lash Lift Instructor Certification. I have no intention of stopping there! I plan on attending the Skin Scrip Advanced Skin Course, , Image Product Knowledge Course, an advanced waxing or sugaring class, as well as, finding an advanced brow design course! I took the SWIHA Animal Massage Course and plan on taking an Animal Reiki Certification Course"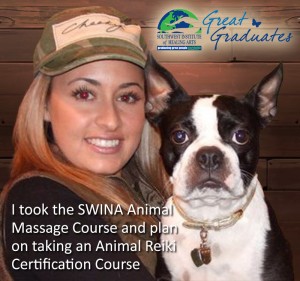 "SWINA taught me that skincare is not just products going on the skin! There is so much more that can goes into the health of our skin. They introduced me to natural forms of healing for the mind and body. I never knew about essential oils, reiki, hypnotherapy, yoga and how all this can actually help the skin! There is so much more to this practice and SWINA does such a good job of introducing these things to you and opening the doors so you can explore more and help people on a level you never even dreamed possible"
It is obvious that Tiesha is enthused about each of her clients and their success. "My favorite story is a bride that came to me 5 weeks before her wedding with acne. Nervous about photos and upcoming events she was truly stressed about her skin. It was my mission so we changed her home care, incorporated some nutritional suggestions and did weekly treatments. On her last treatment she started crying with joy that her skin had cleared. Honestly not even I thought it was possible in such a short timeframe. When she left I actually cried too because I knew I had helped someone look and feel her best on the biggest day of her life."
To find yourself in the helpful and healing hands of Tiesha Lamb or to learn more about how she is mentoring fellow aestheticians interested in becoming a certified Elleebana Lash Lift Technician or starting their own business, contact her directly at 480-695-5499 or via Facebook at Skin Voodoo page where her reviews are magical!