Tarah Hunter & Lacey Storm: Two Great Graduates, Sweeter than Sugar!
The moment you step foot inside Sugar Sugar salon in Scottsdale, AZ, you are in for a sweet treat. One can expect to be greeted by a jovial and genuine staff member – oftentimes the owner herself, Aimee, or one of two graduates from the Southwest Institute of Natural Aesthetics (SWINA), Tarah Hunter or Lacey Storm. Lacey and Tarah find themselves happily employed as licensed aestheticians for a growing franchise due to their enrollment at SWINA.
Lacey recalls her initial decision to attend the award-winning college, stating "I've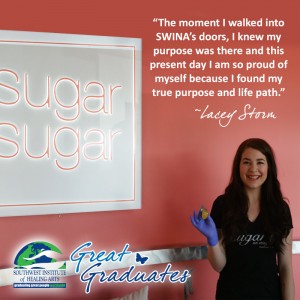 always had a deep desire to help other people – even stemming as far back as when my sister struggled with skin concerns and the bullying that came with it. Nurturing her and others has always made me feel purposeful. I placed quite a bit of pressure on myself to find my ideal path and when a close friend highly recommended becoming an aesthetician at SWINA, it instantly seemed like a fit. The moment I walked into SWINA's doors, I knew my purpose was there and to this present day I am so proud of myself because I found my true purpose and life path."
Lacey also expressed her long-standing desire to work in a capacity that integrated mind-body-spirit wellness. Always cognizant of her approach to skincare and how it relates to overall health, she believes, "the body is a canvas, essentially painting on the outside what is happening within. Being a licensed aesthetician is about educating others in caring for themselves. That is what makes me feel so purposeful each session – I am helping contribute to their overall wellness."
Both Tarah and Lacey began their studies in early childhood education, thinking they wanted to be teachers. In a very satisfying way, their paths as licensed aestheticians have, in fact, fulfilled their deep desires to serve as educators.
Tarah shared that she most appreciates visiting with clients who have a true desire to invest in their health; those who prompt questions where she can serve as a teacher, as well as a researcher. Often, Tarah spends her own time researching additional ways to integrate a holistic approach into what she can offer her clients.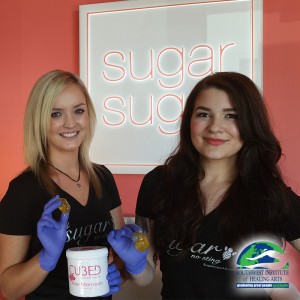 In a similar manner, Lacey embraces the clean and natural approach to self-care that her clients request. Lacey adds, "I appreciate and implement holistic services and products to my own self-care, so I find it nearly effortless to be sincere and helpful with my clients. Initially, the first thing you ever sell is yourself. After that, the services and products sell themselves and I simply show up to serve authentically."
"The body is a canvas, essentially painting on the outside what is happening within." – Lacey Storm
Both Lacey and Tarah found their employment with Sugar Sugar to be both divinely-timed and consciously-calculated. The process of joining the team seemed to evolve quickly, and to their surprise, was met with much enthusiasm. They felt as if they were joining a family, as opposed to just being a couple of "new hires."
Lacey smiled as she recalled her synchronistic hiring process. "I had the opportunity to meet Aimee, the owner, well before my hire. I was offered an internship, though it did not work at the time with my schedule. Nearly one year later, Aimee remembered me, having kept my resume, and I was offered a job interview with Sugar Sugar. My boyfriend and I were two-hours into a drive to California when we immediately turned around to head back to make sure I could be at my 'divine appointment' the next day. Throughout the interview I just knew it was meant for me to go to work for this conscious company."
Tarah's opportunity was divinely orchestrated as well. One of her fellow classmates applied to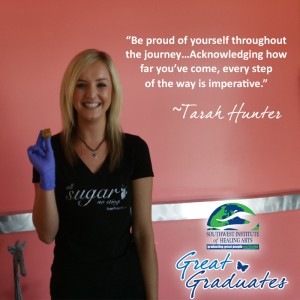 Sugar Sugar during a time they were not hiring. Soon after the salon opened their doors they called the fellow graduate back, yet as fate would have it, she had secured a job with another organization. In true networking fashion, she highly-recommended Tarah as a possible fit. And it turned out Tarah was a "sweet" fit. Blessed to be working with Sugar Sugar, Tarah gushed when she shared her feelings about her employers: "The owners care about the team as a whole and truly put great thought into who will mesh the best with the Sugar Sugar family as a whole. They are clearly people-over-profit, which is why I believe we have a growing number of clients every month. Each day, it is not uncommon to hear staff praising us for even the smallest of accomplishments. The industry could benefit so much more from a culture of our caliber, as opposed to competition."
Undoubtedly, both ladies are fulfilling their passion and purpose of helping others feel and look their best from a holistic standpoint. When asked what they cared to share with aspiring SWINA aestheticians, Lacey stated, "It is so important for us, as licensed aestheticians, to embrace being a professional at all times, even outside the salon. I am pleasant to everyone I met because you never know where your next client may come from."
Tarah shared, "Be proud of yourself throughout the journey. I am proud of myself, what I do, what I can do and will do for people. Acknowledging how far you've come, every step of the way is imperative."
As they shared all SWINA had done for them, they both agreed that one of greatest benefits to attending SWINA is the holistic mindset that was offered through healing modalities like Reiki, Reflexology, Toe Reading and much more that are all built into the curriculum. They also praised the emphasis and encouragement they received from the instructors and college staff to begin working on clients early in their program. What they heard was: "Don't wait to get your hands-on training. You are ready to serve in the clinic and we are here to support you every step of the way." This instilled within them an unshakeable sense of confidence that poured over and into their heart-centered interactions with their current clients, and that they imagine will last a lifetime. All in all, that's a pretty sweet deal!