Seeking Serenity in the Southwest
Kiera Stroup always wanted to move to Arizona. A native New Yorker, Kiera earned her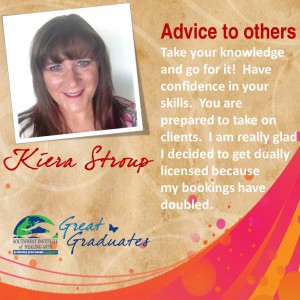 Bachelor's degree from Manhattan College and then began a corporate I.T. career that lasted 27 years and took her to Connecticut, California, and finally Memphis, Tennessee. It was at the University of Memphis where she earned her MBA. However, Kiera still longed to live in the Grand Canyon State. In 2013, Kiera's corporate I.T. career came to an unexpected end when the company she worked for eliminated her position. Instead of feeling sorry for herself, Kiera took it as a sign and headed for the Valley of the Sun to fearlessly pursue her dream.
Since Kiera had a longtime interest in skincare, she felt that a career change to the field of natural beauty would be a good fit for her. She found Southwest Institute of Healing Arts (SWIHA) and called to inquire about aesthetics programs. Based on Kiera's other interest in massage, her Admission Coach suggested SWIHA's 1000-hour Massage program, which would allow her to become dually licensed in massage and aesthetics. This specific program is unique, in that, students have the opportunity to complete part of their program at Southwest Institute of Natural Aesthetics (SWINA), SWIHA's branch campus where the natural aesthetics programs and courses are held, located two miles south of the main campus in Tempe, Arizona.
Completing her extensive, 1000-hour diploma program with flying colors, Kiera knew that after almost three decades in the field of I.T. she wanted to work for herself. Earning her dual license in massage and aesthetics brought her one step closer to that goal. "Without my SWIHA education, I would still be stuck in the same career that I intensely disliked," Kiera said. So, with her Massage and Aesthetics licenses in hand, Kiera opened Sonoran Serenity Spa in downtown Tempe, Arizona.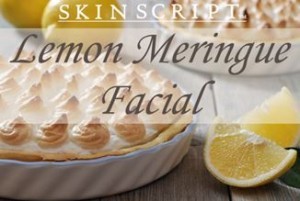 Sonoran Serenity Spa provides clients with an array of premium skincare services, such as spa and corrective facials, salt and sugar body scrubs, body wraps, chemical and non-chemical peels, face and body waxing, in addition to massage therapy, corporate massage and even spray tanning! Clients who receive a service at Sonoran Serenity Spa will enjoy natural, holistic pampering and tranquility, since Kiera only uses the highest quality professional products. Every client's service begins with a glass of Prickly Pear Infused Water and is complete when the client is given a complimentary satchel of organic lavender.
Clients can unwind from their day or week while enjoying gentle spa music, soft lighting, and the soothing sounds of a bubbling Zen fountain. Some treatments even incorporate the healing elements of Sonoran desert plants and herbs, which can help to relax or rejuvenate, depending on the desired need of the client. Take a moment to click into Sonoran Serenity's website and take a look at some of amazing delicious sounding treatments Kiera is offering in March: Lemon Meringue Facial, Coconut Lime Body Scrub, and a Coconut Cream Pie Facial.
Once she opened Sonoran Serenity Spa, Kiera quickly learned that earning her dual license in massage and aesthetics definitely paid off. "I'm really glad I decided to become dually licensed," she said. "Because of the dual license, my bookings have doubled!"
Having a dual license is helpful, yet it's only one of multiple marketing tools that Kiera uses on her business. She has a Sonoran Serenity Facebook page, and also relies on traditional print advertising, online advertising, emails to her client list, giveaways such as body scrub services, and something she calls Massage Therapy Thursday, which is a 60 minute Relaxation Massage for the low price of only $45! She also regularly participates in local health events to spread the word about Sonoran Serenity Spa. In addition, Kiera fully embraces the benefit of word of mouth advertising. She markets her services to the businesses that are near her spa, such as the many hotels and restaurants, truly recognizing the benefits of networking an collaborating with neighboring businesses.
Overall, Kiera's vision with Sonoran Serenity Spa is to help clients create balance, both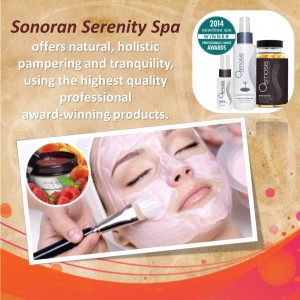 inside and out. Since her passion is skincare, she loves when she can help clients naturally resolve their skin issues. "I have had several clients tell me how much their skin has improved with the use of professional products," she says excitedly. "Everything I do with a client I learned at either SWIHA or SWINA. Without the knowledge I gained from my program, I would not be a fully prepared to work with clients."
In addition to her business helping others, her work and education has helped Kiera on a personal level, too.
"I'm a happier person because I attended SWIHA and SWINA," she explains. "I still have challenges, however, because I choose to have a positive outlook, I know I can work embrace anything that comes my way in a positive way!"
To learn more about how you can become dually licensed in Massage and Natural Aesthetics, contact SWIHA at 480-994-9244 or SWINA at 480-393-1415 and ask to speak with an Admissions Coach.