Layne Nyberg ~ One sweet sugar mama!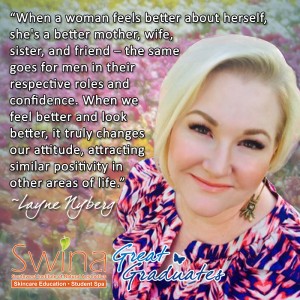 Layne Nyberg is one sweet sugar mama! As a professional aesthetician and business owner who runs two waxing salons in Scottsdale, Arizona she has always had a deep desire to help people and found her passion and purpose was in the skin industry. Earlier on, while preparing for nursing school, she found herself being drawn to serve in the aesthetic industry. As she entertained the idea of becoming a licensed aesthetician, she began to recognize the many ways the industry significantly contributes to changing people's overall well-being. She states, "When a woman feels better about herself, she's a better mother, wife, sister, and friend – the same goes for men in their respective roles and confidence. When we feel better and look better, it truly changes our attitude, attracting similar positivity in other areas of life."
Intuitively knowing that she was to follow her love for skincare, she researched multiple schools, declaring, "SWINA was the best school, in my opinion, particularly for the laser program, and that really intrigued me. I only wanted to learn from the best." Layne smiles wide as she expresses, "I love skin! Before I went to SWINA it might have been creepy to say that . . . yet, now I can say it and it's not weird at all!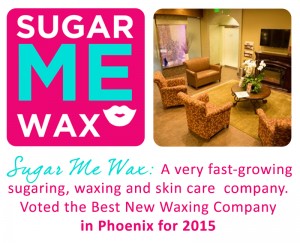 I love helping people; I love transforming skin. Having suffered from Grade 4 acne myself as a teenager, I really understand how people feel, how it adversely affects self-esteem, and I have great compassion and a great desire to help."
When asked how her education at SWINA best served her and prepared her for embracing entrepreneurial success, Layne states, "The most valuable thing I learned at SWINA is how to think about and care for my clients' needs. We were taught to research and find the root of the problem – not just cover it up, or apply a temporary fix. In my opinion, that's what makes you a really great aesthetician. I also loved all of my educators. They always took the time to make sure that I understood every concept I was taught, and they really went above and beyond to help me achieve success."
Coupling the techniques she learned while in school with her natural talents, Layne successfully leads two upscale sugar waxing salons, serving as the lead aesthetician for her business: Sugar Me Wax. "We are a very fast-growing sugaring, waxing and skin care company. In fact, we have been voted the Best New Waxing Company in Phoenix for 2015!" On top of such a noteworthy award, Layne has gone on to support those who are following in her footsteps by hiring two recent graduates of SWINA and employing them in her salons.
Layne has strategically set her business up for success, offering full-body sugaring and waxing for males and females, as well as, offering a variety of facials, chemical peels, derma-planing, derma filing and more, with an intention of adding even more modalities and services in the near future!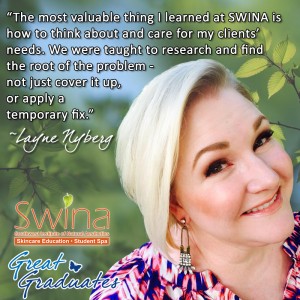 Of course, client satisfaction is Layne's highest priority, especially when dealing with someone's appearance and overall well-being. That said, she shares what she aspires to deliver to each of her clients, at every session. "I am of the opinion that education is paramount. I teach my clients. For example, if they've never been sugared or waxed they will need to be confident about post-care regimen. If they've never had a facial, they will need to know what to expect as their skin evolves and continues to heal post-session. To me, an educated client is really powerful because once they know and understand the science behind why we do what we do, they're more apt to be consistent, compliant and take better care of themselves in general."
One of the greatest measurements of success for Layne is her diverse clientele base."Our clients are so varied! We have all kinds of people that come to see us: Men, women, younger, and even the more mature client! We help everyone! They keep coming back because we provide pristine customer service and they know we are dedicated to strict sanitation guidelines and are exceptionally skilled at what we do."
Layne attributes her success, in large part, to what she learned at SWINA and her ability to share it with clients. "I utilize my education from SWINA in every session I'm in. Whether I'm teaching about hair growth cycles or cell turnover rates, people need to understand the biology because the more educated they are, the better they can take care of themselves. I think most people find it interesting and want to know how their bodies work!"
Based on Layne's success and ongoing support of those who graduate from SWINA as well, she offers the following message to other new SWINA grads and current students: "My advice would be learn as much as you can. Be a sponge. Gain all the knowledge that you can possibly gain. Ask questions! Never be arrogant or think you know better. No matter how long you are in this industry, there will always be something and someone to learn from. I honestly believe if you apply these tactics to your life, you will be a better aesthetician for it."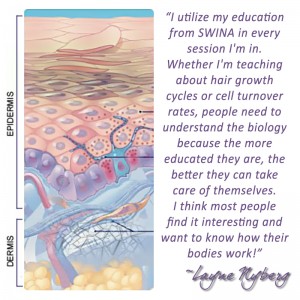 Sugar Me Wax is a great success story to inspire you to follow your dreams in such a growing field. Humbly, yet confidently, Layne summaries her success by saying: "In less than one year we have come from a fledgling business, to a force to be reckoned with. When I was approached to run Sugar Me, I was not interested in waxing at all. I was pursuing medical aesthetics. I can honestly say that taking on this opportunity is one of the smartest things I've ever done! I help people all day long, and have the honor of interacting with them on a very personal level. I love people and I love being able to make a difference in their lives, and Sugar Me allows me to do that on a daily basis! It's very rewarding and fulfilling!"
To get in contact with Layne, ask about her services and specials, or just connect with her to share a mutual love for skin and well-being, she can be contacted by visiting her website at sugarmewax.com or by Facebook under Sugar Me Wax. "We also have our own app for iPhone and Android for those who prefer mobile access!" gushes Layne!