Helping Others Achieve Their Best Self, One Facial at a Time
Linda Binette's education at Southwest Institute of Natural Aesthetics (SWINA) brought more gifts to her life than she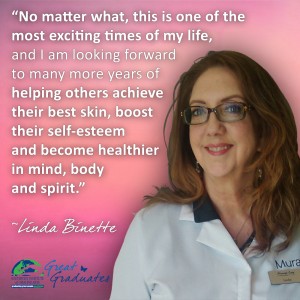 could have ever imagined. From the moment Linda toured the SWINA campus, she was confident it was the school for her. As a branch of Southwest Institute of Healing Arts, she knew that SWINA would provide her with the holistic education she was looking for.
"I was interested in healing arts – treating the whole person: mind, body and spirit," says Linda. "When I took my tour of the school, I was so impressed by the great energy I felt, the friendliness and professionalism of the staff, and the beautiful facility! I knew in my heart that I didn't need to look anywhere else!"
So Linda began her Natural Aesthetics program at SWINA. In addition to hands-on aesthetics training, such as skin care, makeup and waxing, spa technologies and even holistic theory and business courses, Linda learned how to be centered and present in all that she does. One of the most important skills she gained was how to really listen to what her clients are saying, or NOT saying. "It is so fulfilling to know that I am in tune with my client's goals, and that the client trusts me to lead them in the process," Linda explains.
Her stellar listening skills, combined with the quality education she received at SWINA, prepared Linda for her career as a Natural Aesthetician. Upon completing her program, she accepted a full-time position at Massage Envy as an aesthetician, and was quickly promoted to Lead Aesthetician within only six months of being hired.
In addition to providing facials and other skin care services to clients, Linda also trains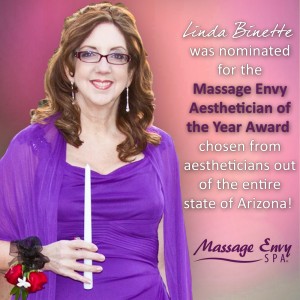 new aestheticians, sells retail products, orders merchandise, takes care of the entire inventory, and plans, develops and executes quarterly marketing events, in addition to a number of other administrative duties. In addition to specialized sessions, Linda has developed a program for her clients who are hoping to see quick results. "I call it my 6 N 6 Program – six facials in six weeks," she explains. This program brings on amazing transformations in a short amount of time, and Linda's clients have expressed a lot of satisfaction with the results.
This type of innovation and dedication to the needs of her clients has created a lot of success for Linda. Recently, she was nominated for the Massage Envy Aesthetician of the Year Award, chosen from aestheticians out of the entire state of Arizona! The nomination was based on a number of criteria, such as Linda's client request rate (over 50%!) average product per facial ($74!) and her monthly average retail sales ($5500!). Linda's boss had to write biography about her, describing her traits not only as an employee and aesthetician, but also as a person. The information was then brought in front of a panel and nominees were chosen.
"It is such an honor to be nominated," Linda says of the nomination. "I was overwhelmed with so many feelings – but most of all gratitude!"
At the end of April, Linda will take a trip to Las Vegas for the national convention, where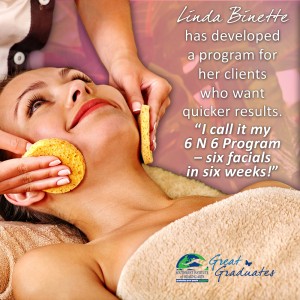 she is in the running for National Aesthetician of the Year. At the convention, she has the opportunity to attend workshops and network, two important aspects which will enhance her career even more. She advises fellow aestheticians to never stop learning, to experience webinars, classes, or seminars, and most importantly, to be confident. Linda also hopes to one day become certified as an Aesthetics Educator, so she can become an instructor and share her knowledge and passion with others.
Because of SWINA, Linda feels her entire life took off in a direction that still amazes her. "I have so much more confidence in myself today than I did just three years ago. I have accomplished something that I never imagined was possible," she says passionately. "No matter what, this is one of the most exciting times of my life, and I am looking forward to many more years of helping others achieve their best skin, boost their self-esteem and become healthier in mind, body and spirit," she exclaims.
To learn more about SWINA's Natural Aesthetics programs, please visit www.naturalbeautyaz.com or call 480-393-1415 and ask to speak with the Admissions Coach.