Ayesha Dalton: Passionate about Beauty and Service
Ayesha Dalton's recently-opened spa, just over 9 months old, has a warm and loving atmosphere that exudes professionalism and pristine care. Ayesha's passion for beauty and well-being developed long before her studies at the Southwest Institute of Natural Aesthetics. She is passionate about what she does, sharing, "I value the importance of taking care of how I look. I'm here to help anyone who needs encouragement and advice to look and feel their best. Therefore my passion became obvious to me, as did the awareness that I should share this with all who want to experience it."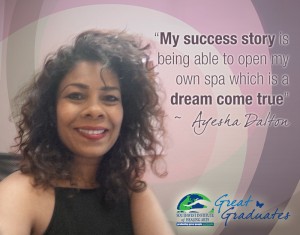 Ayesha looked to SWINA when deciding on a professional career as an aesthetician. After being a stay-at-home mother of 2 for nearly 20 years she desired projects that would continue to make her feel purposeful to others and allow her to continue to care for others resulted in her path to natural aesthetics.
Grateful for all she learned in SWINA, she shares that the most valuable lesson "was that education not only gives you knowledge but confidence to be successful in life and to pursue your dreams." Her confidence is incredibly infectious and has inspired many of her peers as she has stepped into entrepreneurship wholeheartedly and without hesitation. In spite of the unknown, she is embracing each new opportunity and steadily making her way into the successful entrepreneur she dreamed she could be – in as little as 9 months! "Most of our clients have heard about SWINA and I'm very proud to let them know where I got my training and education from."
Ayesha stays committed to her mission and vision to offer quality service at an affordable price and with her clients' schedules in mind. Her first salon, 5-5 brows, started as a quick and easy way to get effective service, boasting "5 minutes for 5 bucks". Her initial endeavor has been such a success and the demand for her services grew so quickly, she has had the amazing opportunity to hire more staff and offer more services, exponentially increasing the profit within her company. The name, 5-5 Brows – Threading & Beauty, has quickly evolved a reputation that supports 5 out of 5 stars in service, price and customer satisfaction. So much so, Ayesha is looking to open her next salon in the same calendar year, since opening 5-5 this past February, 2015. She has ambitious dreams to open many more salons and cater to a much larger clientele.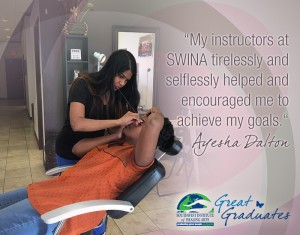 One of Ayesha's greatest skill sets is her natural ability to share her services in a way that always places customers first. "When clients come in needing small fixes or a very brief shape correction here or there, we will perform a quick complimentary session without focusing on profit. Our services offer so much more and truly do help others look and feel their best. We focus on people, and the abundance of clients and prosperity has come from placing them first. Our goal is to truly take the eyebrows – one of the most prominent features of the face – and shape them, tint them and clean them up so that they enhance the naturally beautiful traits each of our clients possesses. Each session is tailored to our clients and what is best for their complexion."
This focus on quickness and quality has allowed Ayesha to add some of her other highly-regarded services, including, facial and full body services. "We provide beauty services such as eyebrow threading, Henna tattoos, brow and lash tints, microdermabrasion, facials and waxing."
When asked what the experience is like for new customers – most commonly those who come for brow threading – Ayesha gleefully and proudly replies, "Customers will sit on a very comfortable styling chair that has a head rest allowing them to relax while our beauty experts perform hair removal by threading on the face and wherever else needed. We use a 100 % cotton thread to remove facial hair. It's a technique that originated in India to safely remove and shape eyebrows. Threading is our most popular hair removal service that we offer as it is non invasive, natural and quick."
No matter the age or gender, 5-5 Brows is rapidly becoming the go-to place in the Valley for Brow Threading services. "Our clients vary from young to not so young – anywhere from 6 years to 60 years of age. We have men and women clients, both of which desire a well-shaped pair of eyebrows that fit their face and accentuate their innate qualities. Men and women who make it a point to look their best come to 5-5 Brows and find that they can truly benefit a great deal from a simple service that is priced with them in mind."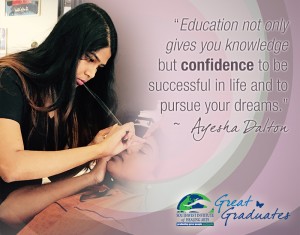 Many of Ayesha's clients have followed her from her time as a student at SWINA. It was there that she learned the tools and earned the respect of her case studies and open-to-the-public appointments. Eyebrow threading came very naturally to her, as well as, to the staff she has hired. Her team has an incredible background as beauticians and a strong working knowledge of threading from cultures including India, Nepal and Sri Lanka.
Thinking back to her times in SWINA, she recalls that many of the students, mostly women in similar circumstances as her at the time of her training, are looking to build their own entrepreneurial business. They find very quickly that the aesthetician path is one of strong work ethic, self-marketing and continuous education in the industry. Her advice to those who follow in her footsteps is simple and inspiring, "Finish what you have started. Sometimes the road is long and tough. Don't let anything or anyone convince you to give up on your dreams."
Having returned to school to further her education, as she suggests all aestheticians continue to do, Ayesha has since returned to Southwest Institute of Healing Arts, the parent school of SWINA, and completed her degree in Holistic Nutrition. "Now I'm a licensed aesthetician and a certified nutritionist, which go hand-in-hand in offering quality care and follow-up guidance to further enhance my clients' own self-care between sessions."
Ayesha is eager and enthusiastic to share her gratitude for her SWINA education and experience. "My future looks bright and endless with so many possibilities. My instructors at SWINA tirelessly and selflessly helped and encouraged me to achieve my goals. I'm very grateful!" She humbly shares that her greatest success story to-date is her own. "My success story is being able to open my own spa which is a dream come true. My staff and I will always look for ways to improve, to better help and serve our customers in the most positive ways."
To become one of Ayesha's success stories, feel free to connect with her either via website or social media at: www.55brows.com / www.facebook.com/55brows